Regular price
$25.00
Sale price
$20.00
Unit price
per
Sale
Sold out
Eating at the computer workstation or office is a common habit shared by many.
But did you know that the food crumbs that drop unnoticed into the keyboard crevices will transform into the perfect breeding ground for bacteria? 
It may be unbelievable, but the average computer keyboard is actually about 20,000 times dirtier than a public toilet seat! Digest that fact! 🤮
Our Antibacterial Reusable SuperClean™ Gel CLEANS and DISINFECTS in ONE STEP!
BENEFITS & FEATURES
✅ Catches dirt and other debris easily
Cleaning has never been so fun! Be amazed as SuperClean™ Gel picks up dirt of all sizes effortlessly.

✅ Clean even the most hard-to-reach areas
SuperClean™ Gel is a viscous, elastic compound designed to mold itself to fit into every single nook and cranny that may harbor harmful dirt.

✅ Kills 99% of viruses and bacteria
The proven antibacterial agent protects against harmful germs and promotes a healthy living environment, be it at home or at the work place.

✅ Reusable, Non-toxic and Biodegradable
Made of high-quality natural ingredients, it is biodegradable, safe, non-toxic and environmentally friendly. It also comes with a citrus fragrance! A single piece of gel can be reused multiple times until the color turns a darker shade. 

✅ Suitable for all daily items!
You can clean your keyboard, mouse, track-pad, printer, calculator, screen, game controller, TV remote, bag, car outlet, window track and basically any other appliance/furniture with gaps which are difficult to reach.

HOW TO USE
1. With dry hands, remove SuperClean™ Gel from container and warm it up by kneading it several times and forming it into a ball.

2. Press(do not rub!) the gel slowly into the keyboard or any other surfaces that you intend to clean. Make sure the surface is dry before attempting this step.
3. Lift the gel out, together with the dirt that is now embedded into the gel. Pick out and discard any large pieces of dirt if you desire, otherwise you can simply fold the gel to encapsulate and seal in the dirt.

4. Please keep SuperClean™ Gel in the container in between uses. Always place the container in a cool, dry and dark place.
FAQ
Q1:  Can SuperClean™ Gel be reused?
A: Yes! SuperClean™ Gel can be reused many times until it turns into a darker and dull shade.
Q2:  Can SuperClean™ Gel be washed with water?
A: No. There is no need to wash the gel as it has antibacterial properties. We do not recommend washing it with water as that will dilute it and reduce the efficacy of the antibacterial agent in the gel.
Q3: What do I do if SuperClean™ Gel gets stuck in the crevices of my keyboard or other items? 
A: This rarely occurs due to the unique property of the gel, but in the event that it happens, do not worry! Simply knead some of the gel and dab it into the crevice again. The residue gel should be picked right up.
Shipping & Delivery

All our orders are professionally prepared and packaged, and will be dispatched within 1 - 3 days.

Most orders are delivered within 5 - 15 days, however delivery times may vary and take up to 15-30 days depending on your shipping location. Please check out our complete and latest shipping policy here.

Tracking numbers will be automatically sent to you as soon as the order is shipped.

Occasionally, additional delays may arise that are beyond our control, such as customs or postal delays. Thank you for your kind understanding!
30 Day Guarantee

We have a top rated risk-free guarantee.

If you are not satisfied with the product quality, you can contact us within 30 days after receiving the product to request for a replacement or a refund.
Share
View full details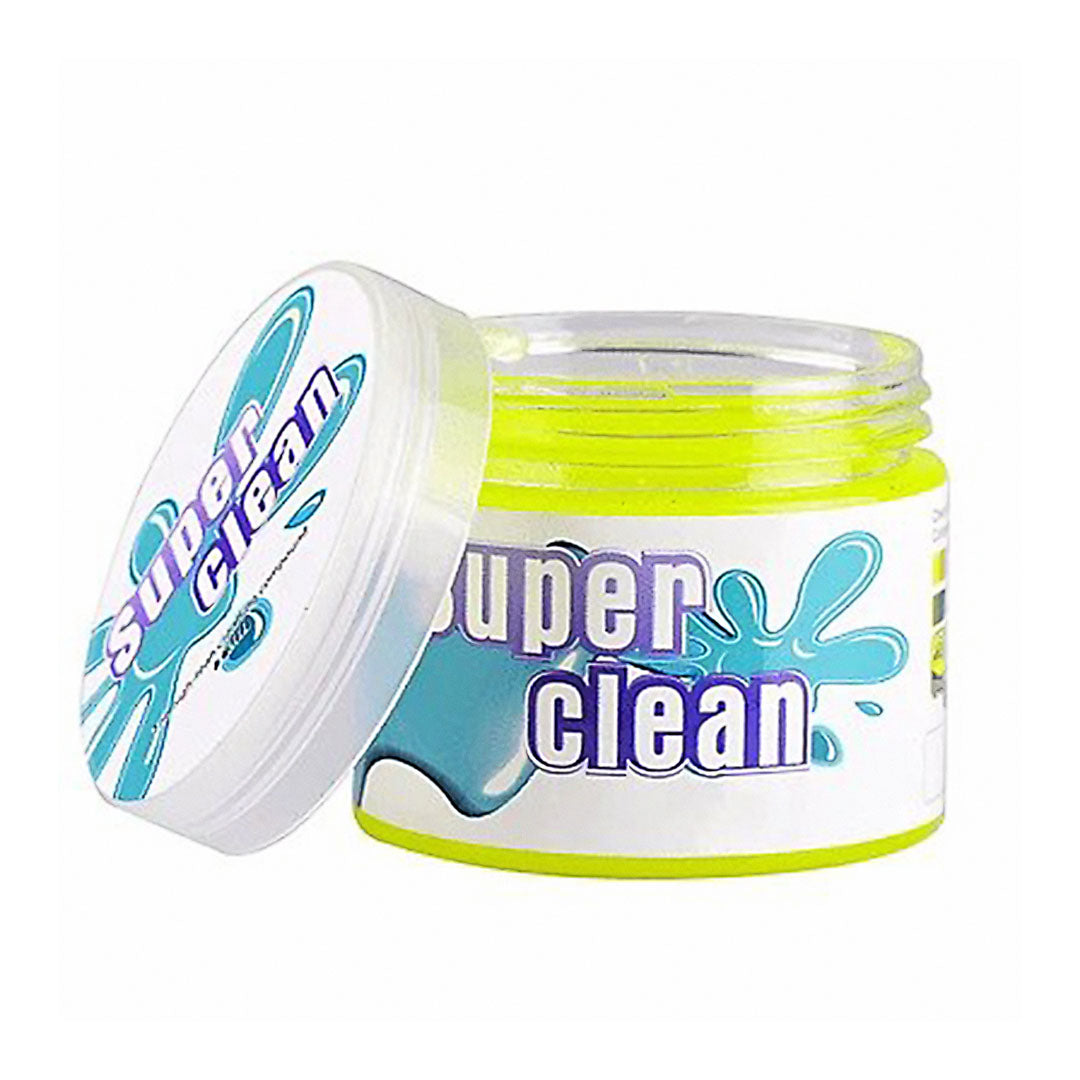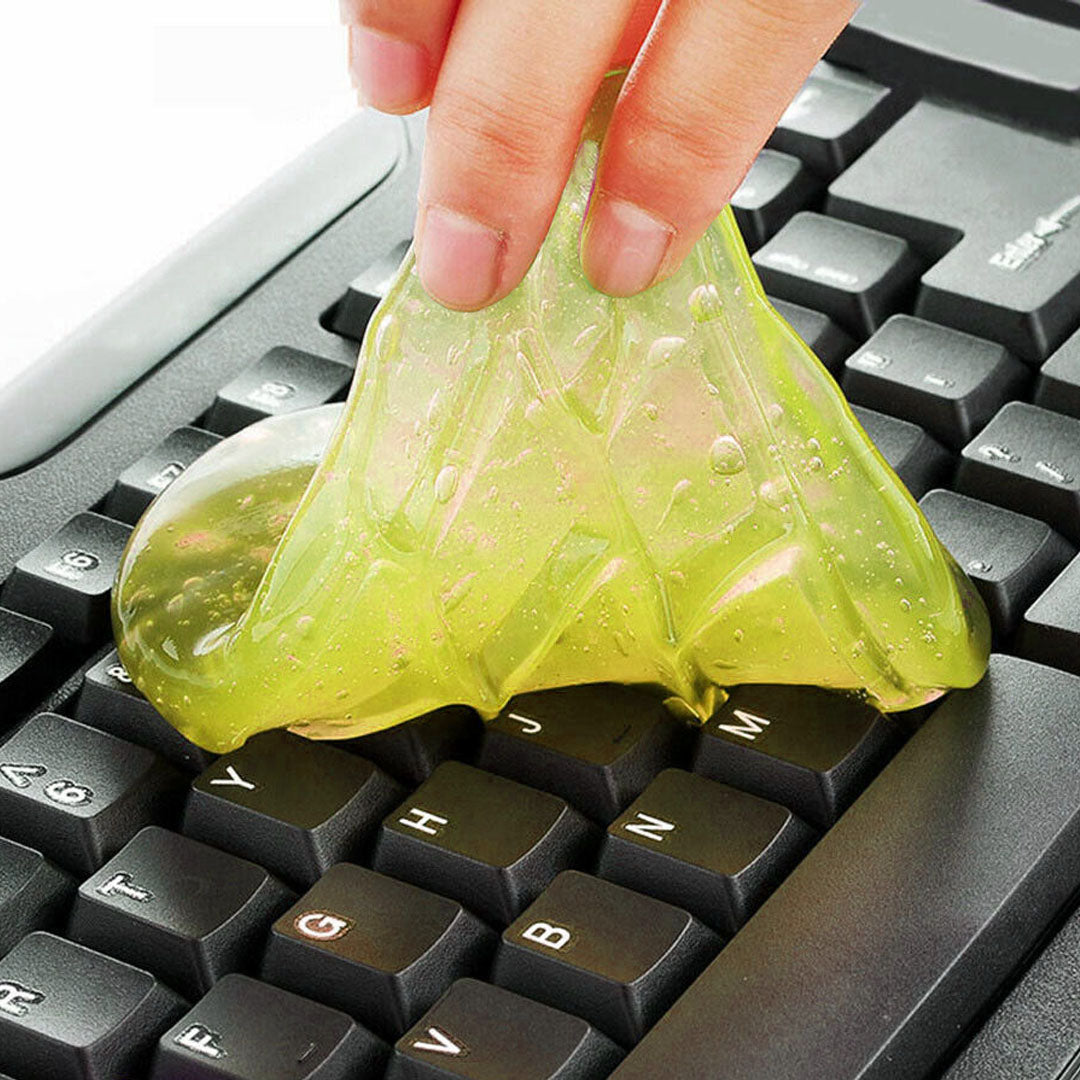 I really got this to use on my computer keyboard now that we are working from home. On the days my husband works from home and uses the desktop, he eats while he works and gross!!! When it's my day to use it, the keys stick and you can hear things crunch as I push them down! Yuck!!!! This is fascinating stuff! Its really fun to play with but I'm most impressed with how easy it is to stick it over my keyboard and it picks up all kinds of nastiness in between the keys. I bought 2 packs so I was able to send one with him on the days he goes in to his office. He sent me a picture the first time he used it there it picked up so much gunk that you could hardly see any yellow gel! I keep thinking of all kinds of areas I can use this cool stuff to help clean! Will certainly be purchasing more in the future!
Works well removing loose dust and dirt from areas you typically can't reach. The goop is easy to move around areas to remove the dirt and clings to it well.
I bought this because of customer positive reviews - reviews right on the mark. Cleaner was easy to use - just tried it on my keyboard with great results. I plan to use it on some other things and see if it does the trick. Very happy with this purchase - no fault to find!!!
This product is amazing in how thoroughly it cleans odd surfaces without fear of water or liquids damaging what you are cleaning. I used it on the keyboard, the vents on the back of the TV and am l anxious to find more to try it on.
I don't know why I haven't bought this before. This thing literally picks up any piece of dust/crumb/debris left anywhere in the house. In the car, it cleans out your vents making them appear brand new. Oh, and it also picks up all the salt from french fries stuck in your cupholder in your car or at least that's what a friend tells me...and I will definitely be buying another once it is.